Peninsula Underground
"After a decade, to say a wine is "the best" means comparing against thousands of its peers.  We may have just discovered the best Rose's (yes plural) we've tasted in all our ten years.  Every head must bow, every tongue must confess that Vinos Unidos is the best."

-Steve Rochford
UNITED BY THE CONNECTION TO THE EARTH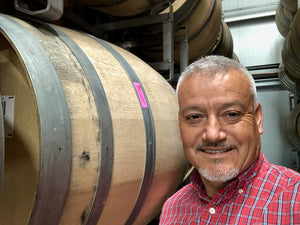 Gerry Martinez,
Founder & Winemaker
Every good product has a story, and a soul. Founding partner/winemaker, Gerry Martinez, has both.
Let's start in Mexico, where Gerry grew vegetables, and raised chickens and cattle on a ranch with his family. At age 12 his family came to the Napa Valley. Gerry's dad worked in the fields and vineyards to raise a family of 10. In high school Gerry went from the winery stock room, later to cellar work, and now is Vinos Unidos' owner/winemaker. All along, learning from the best winemakers in Napa Valley.
More importantly, Gerry's deep connection with nature and his knowledge of the terroir, makes him the soul of Vinos Unidos. Our "magician." No wonder our wines have become "Award Winning" in a very short period of time.
Next time you're in Napa, make sure to visit Gerry. He'll be more than happy to give you a master class in wine-making.
Testimonials
I love, love, love this amazing winery. Did a tasting and fell in love with the Rosé. Gerry was so nice and informative!

Amy G
My Favorite is the Pinot. It's rich and velvety. How do they do that? It's bold and soft at the same time. I'd call it the sexiest wine I've tasted.

Julieanne Reall
Best service. Best wine. Amazing company!

Missy Edmonson
GIVING BACK TO OUR COMMUNITY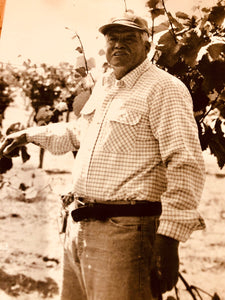 Our Bracero heritage and our belief in always helping our community, has led us to establish and fund scholarships for students pursuing careers in the wine industry; with the ultimate purpose of helping those who want to continue their education and pursue a college career.
To that end, we have already established six scholarships at Santa Rosa Junior College, Saddleback College, the Orange County Hispanic Chamber of Commerce, and Mission College— for students majoring in Enology, Viticulture and Culinary Arts.
In honor of our parents who worked so hard to make a life, raise a family and prosper in a new land. Here's to our number one inspiration, Manuel Martínez Huerta, the original vineyard worker of the Vinos Unidos family.